Garnet Gemstone Bezel Sterling Silver Filigree Necklace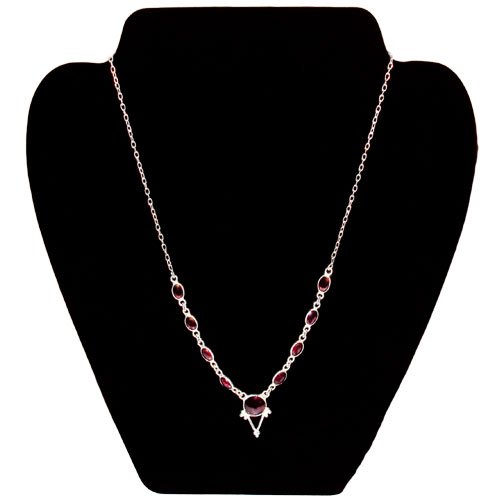 This sterling silver filigree necklace has Garnet gemstone bezels. The Garnet gemstone bezels are oval and round circle shaped. The Garnet gemstone oval bezels lead down to a larger round Garnet gemstone bezel. A sterling silver filigree design is below the round Garnet gemstone. The necklace chain and clasp are sterling silver. The filigree is sterling silver and the Garnet gemstones are bezel set in sterling silver. This bezel filigree necklace is 16" long with extender by ½" wide with ½" drop.

Color: Garnet is a red shaded gem.

Birthstone: Garnet is a birthstone for month of January and the zodiac sign of Aquarius.

Anniversary: The gemstone for the 2nd year is garnet.

Gemstone Lore: Garnet is said to have vitality, protection, love, and strength powers.
Other Products from
endoftherainbowgifts
(View All)